Meter Payment Methods
Payment Types Accepted
Purchase parking using the WPA Pay stations which accept cash, Mastercard, Visa and American Express. You may also purchase parking using the PayByPhone App which accepts MasterCard, Visa, American Express, Prepaid Visa and Prepaid MasterCard.
At this time we are unable to process payments using Visa Debit cards.
PayByPhone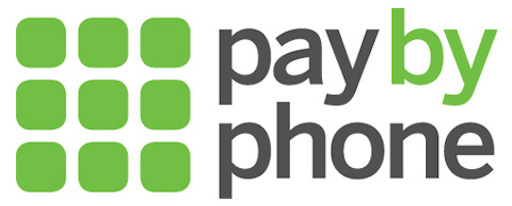 Benefits of using PayByPhone:
All you need is your mobile phone
Be automatically reminded when your time is almost up
Extend your time from any phone
Stay safe and comfortable while paying
View and print parking transactions online
Select your parking duration by a length of time, or enter the end time of your parking session
Download the iOS Android app, or parking online at m.paybyphone.com, or call 1-204-957-7275.
Pay for your on-street parking without having to leave your vehicle or remembering to bring change. Get a text reminder when your time is almost up! Based on the City of Winnipeg Parking By-Law 86/2016, once the purchased maximum time for that parking spot has expired, re-metering for an additional 30 minutes is permitted.
The Winnipeg Parking Authority has engaged PayByPhone, a company based in Vancouver to provide motorists a convenient Pay-By-Phone option. Once you have registered with PayByPhone, you will be able to pay for your parking using your cell phone.
While you can register over your phone, we recommend registering online through their website or downloading the app from the Apple App Store or Google Play.
To learn more, visit the Frequently asked questions about the PayByPhone app.
Effective August 10, 2017, PayByPhone's mobile parking payment service is now free to use at the City of Winnipeg's on-street locations and surface parking lots.
No Charge Times Including Sundays and Holidays
Costs for on-street parking apply to the hours of 0800 to 1730, from Monday to Saturday.
There is no requirement to pay for all other times or for parking on Sundays and Holidays.
2019 Holidays:
| | |
| --- | --- |
| New Year's Day - January 1 | Terry Fox Day - August 5 |
| Family/Louis Riel Day - February 18 | Labour Day - September 2 |
| Good Friday - April 19 | Thanksgiving Day - October 14 |
| Easter Monday - April 22 | Remembrance Day - November 11 |
| Victoria Day - May 20 | Christmas Day - December 25 |
| Canada Day - July 1 | Boxing Day - December 26 |
Rush Hour Zones
Where rush hour restrictions exist, WPA paystations are programmed not to accept payment - and the coin slot will not open.
In areas where there are no morning rush hour restrictions, paystations will accept payment earlier than 0800. In this case your receipt will be time stamped for 0800, even if you paid earlier. If the receipt is time stamped earlier than 0800, WPA compliance officers assume that the receipt was purchased at 0800.
TIP: Always check for signs indicating parking restrictions before you pay for on-street parking. If more than one sign is posted, look at the signs starting at the highest sign and work your way down.
In rare cases, the paystation may accept payment when it should not.
Complimentary Saturday Parking
The Winnipeg Parking Authority offers 2-hour complimentary parking on Saturdays. This applies to the downtown area only and does not apply to Hospital Zone on-street parking (Health Sciences Centre or St. Boniface Hospital). The 2-hour complimentary parking offer applies at any time between 0800 and 1730 on Saturday.
Scratch N' Park Meter Passes
Scratch N' Park Meter Passes are valid for 1 hour of parking, when the day, month, year and start time of parking are scratched.
Scratch N' Park meter passes are sold in booklets of 10 and are a convenient way to pre-pay for on-street meter parking. There are two types of booklets available, one for the High Demand Metered Area or one for a Low Demand Metered Area.   
High Demand Meter Passes: a high demand pass can be used for 1 hour of parking within a  High Demand area, or low demand area including the Health Science Centre and St. Boniface Hospital areas
Low Demand Meter Passes: a low demand pass can be used for 1 hour of parking within a low demand area
Exchange Policy
Not refundable for cash or other products/services
Not replaced if lost or stolen
If damaged may be exchanged (scratch error does not count as damaged)
If there is a paid meter price increase may exchange old passes for new ones by paying the cash difference (in person)
If they are unused and they are outdated may exchange old passes for new ones (in person and by paying the cash difference if applicable)
Scratch N Park Meter Passes will not be exchanged without the physical passes being provided for exchange.
Displaying Your Receipt
Your paystation receipt must be displayed FACE UP on your dash. If your receipt is not visible, you may get a ticket. It does not matter which side of the dash it is placed on, but we recommend the center so it is easy to see. Here are some other things to watch for:
Leaving a window open: Nobody can control the weather, especially the wind. It may feel calm outside, but one good gust of wind can blow your receipt off the dash.
High Demand Area Paystation Receipt: A high demand area paystation receipt purchased from a paystation in a high demand area (with a green stripe on the receipt) can be used to park in either the high demand, or low demand area, including the Health Science Centre and St. Boniface Hospital areas.
Low Demand Area Paystation Receipt: A low demand area paystation receipt purchased from a paystation in a low demand area can be used only to park in the low demand areas.
Not checking after closing the car door: It is always a good idea to check your receipt quickly AFTER you close your door. Closing your door quickly can create a breeze just strong enough to blow your receipt onto the floor.
Remote car starters: This is the most mysterious force to knock a receipt off your dash. If you like to leave your heater on defrost, fan on high, and start your car from inside fifteen minutes before your appointment is over, your receipt will end up on the floor.
Clips to hold your on-street parking receipt firmly in place are available free of charge from The Parking Store at 495 Portage Avenue.
Also see information regarding 2 Hour Meter Permits.
Last update: July 22, 2019